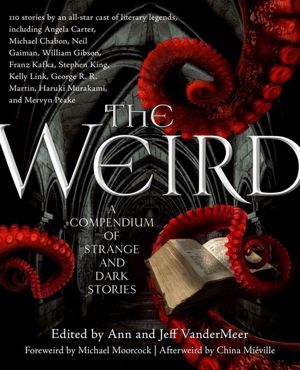 Occasionally an anthology comes along that serves to stretch the bounds of fiction genres. Kirby McCauley's
Dark Forces
, Douglas Winter's
Prime Evil,
Ellison's
Dangerous Visions
, even single author collections like Barker's
Books of Blood
or Tanith Lee's
Red as Blood
.
Ann and Jeff VanderMeer's The Weird is the latest entry in this pantheon. I don't really care to write a long review of the collection or wax all poetic about the VanderMeers: suffice it to say that if you want to have a basic understanding of what weird fiction is all about, this is a great starting point.
Even at the almost 2000 pages in my ebook version (Nook Color) it can only be a starting point. Readers familiar with weird fiction are likely to find some familiar tales alongside those they've missed or never heard about. The really great thing about a well-done anthology are all the writers you get to add to your reading list. To that end, this is a goldmine.
What I do plan to do (and we'll see how far I take this) is to post thoughts about the stories as I read them. So I am calling this 'Reading the Weird' #2 and will deem
this post
from earlier in the week as #1. Yeah, there's more rambling in that one, but scan toward the end and you'll have my thoughts on the first three stories. I figure this will give me something useful to blog about. I'm trying to read straight through instead of jumping around, but there are a few stories calling to me like Cthulhu in a dream. Or something like that. Again, we'll see how it goes.
Today's tale is "Sredni Vashtar" 1910, by Saki.
Whatever you do, don't watch this commercial...
...because this came on while I was reading the story and Conradin instantly became ol' Timothy there in my mind. Ahem. I don't know why.
Funny commercials aside, this is perhaps the most carefully written tale so far in the anthology. I don't think I'd go to Blackwood's story to dissect as a part of the question of 'how can I improve my writing.' Saki's is a tale that warrants a close read or the occasional re-reading to see how he uses his words, and is one of the writers I will seek out for this reason. And while I appreciate a well-done short story, I'm approaching The Weird as a reader, and on those terms this is not just well-told, but an enjoyable read.
Here is another tale that, while it has shadows lurking in its corners--or in its old tool sheds--seems deceptively normal. We feel sympathy, fear, malice, and then trepidation at the adolescent lack of remorse. I suspect return readings might come off with rather different responses, depending on one's frame of mind. That speaks well of any story, and the reason I'll take a "Tuesday Siesta" over a "The Secret Life of Walter Mitty" any day.
I think clever stories often work against themselves: they are one trick ponies, and once you know the trick it's all over. But when pathos is both prominent and allowed to manifest in a subjective way, I suspect a clever story like "Sredni Vashtar" is saved from it's cleverness and becomes something deeper. It is amusing and sad, infuriating and familiar, but it has claws and draws blood and very probably kills. Lovely stuff.
BB